COMPANY PROFILE
EPAM Systems, Inc. is an American company that specializes in product development, digital platform engineering, and digital and product design. One of the world's largest manufacturers of custom software and consulting providers. The company's headquarters is located in Newtown, Pennsylvania, and its branches are represented in more than 30 countries.
EPAM helps in reimagining businesses through a digital lens. Our software engineering heritage combined with our strategic business and innovation consulting, design thinking, and physical-digital capabilities provides real business value to our customers through human-centric innovation. To know more about EPAM visit https://welcome.epam.in/ 
ABOUT JUNIOR ENGINEER JOB REQUIREMENT
EPAM India is hiring Junior Software and Test Automation Engineers from 2022 batch, more details are mentioned as below. Read the details very carefully.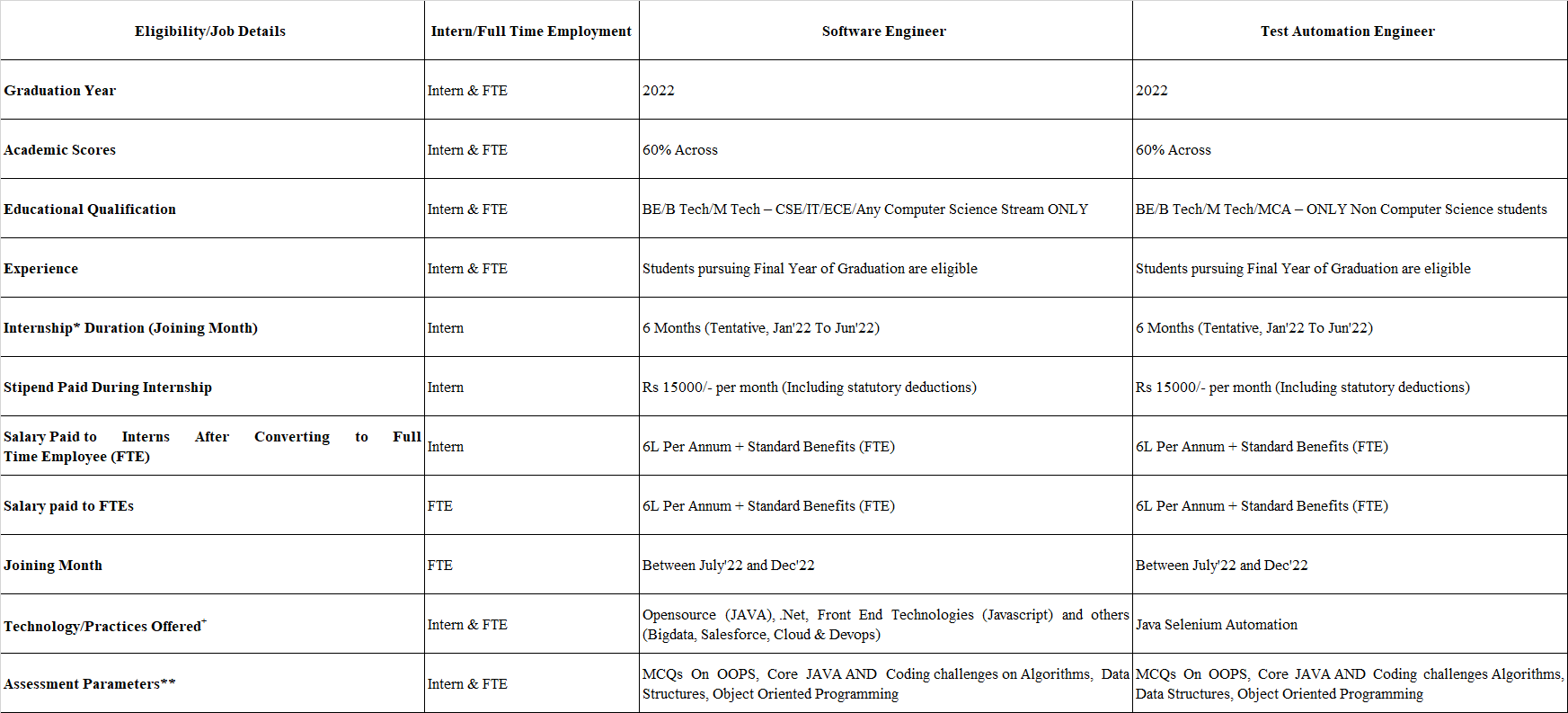 * Internship + FTE is offered to limited number of students based on University/College approval
**More details will be shared to eligible students after completion of registration
** If selected & offered student will be mapped to one of the Technical Practice, based on the date of joining and business demand:- Open Source (JAVA, Python) (or) Testing (Functional & Automation
using JAVA or C# or Python) (or) Microsoft (.Net, C#) (or) Cloud and DevOps (AWS, Azure, GCP) (or) Salesforce or Strategy & Design (Javascript, Angular/React/Node.Js) (or) Bigdata (or) Pega
+ Allocation of Technology/Practices will be decided by EPAM after joining
SELECTION PROCESS
Candidates have to appear in NCET (National Competency Evaluation Test) and score above 50% to be eligible for the EPAM selection process
TRAININGS
Trainings will be provided for offered students for the first three months at the Hyd office, if the office is reopened and the lock-down is released as a result of Covid-19. Otherwise, online trainings will be provided over Microsoft teams. Further details will be shared with eligible students after selection and offer.
STEPS TO REGISTER ON MATCH PLATFORM FOR NCET
If you are a student follow below steps:
1) Please share this job posting link with your institutional placement team and inform them to Register on the MATCH Platform
2) Once your Institution is successfully registered your placement team will have access to invite you for registration as a student.
3) Upon receiving the signup/sign in invite from your placement team follow the instructions present in the email and login to the MATCH platform.
4) Once you have successfully logged into your individual account on the MATCH Platform, Follow the instructions available on the overview page to appear for NCET.
If you are an institution/ placement officer follow the below steps:
1) Contact MyAnatomy's Institutional relationship team on [email protected] OR [email protected] email IDs and register your institution on MATCH PLATFORM.
2) Team MyAnatomy will further guide you on the registration process.
For any queries / clarifications / support please contact [email protected] or [email protected] 
IMPORTANT GUIDELINES
The online coding challenge invite will be sent ONLY to the registered candidates who have appeared for N.C.E.T & meeting all the eligibility criteria.
Shortlisted candidates from coding challenges should be available for the further selection process (Online)
Also Read: IBM Hiring Associate System Engineer| Campus Drive 2021